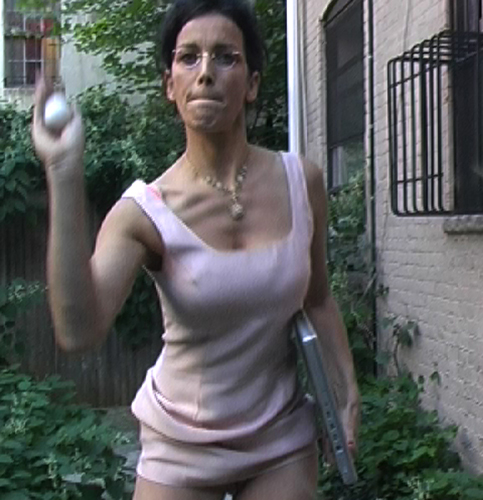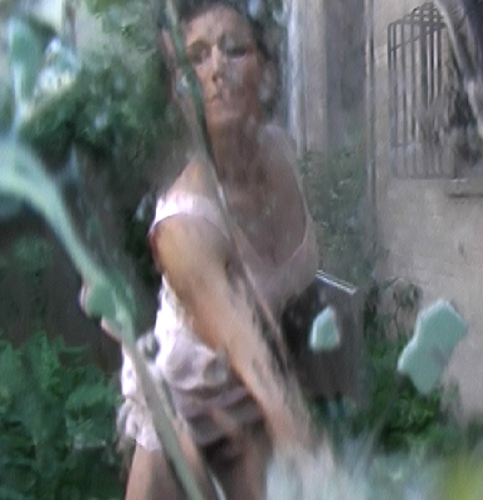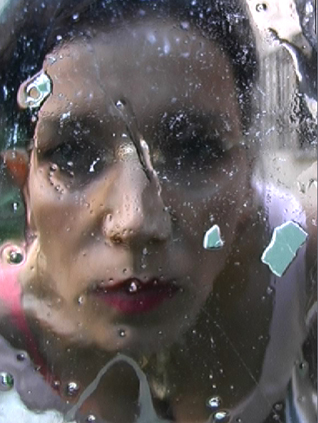 About the Work
It is night. I am cautiously moving through undergrowth, naked, dirty, my hair wild, like a Neanderthal woman. I pause, realizing that the moment has come for me to give birth. I squeeze an egg out of my vagina and hold it close to my breast, protecting it, and disappear back into the woods.
New scene: I am dressed as a business-woman, laptop under my arm; same situation: I stop walking, realizing that I must give birth. I raise my skirt, crouch, and squeeze an egg out of my vagina. I throw it at the viewer/camera.
The work is a brief reflection on the changing relationship of women, and especially female artists, to their bodies, to their social roles, and to the expectations these have historically imposed.
Although I intended the work to be read a certain way, it's obvious, looking back on it, that it is fundamentally ambiguous. Female artists are free to create without regard for convention, whether cultural or biological, including reproduction and nurture. The work embodies the desire to break with entrenched gender roles and to leave a mark in the minds, or stomachs, of its viewers.

Perfomances:
Variations of the Expectation performance were performed at different locations including:
Peekskill, Meditation/Mediation curated by Lisa Paul Steitfeld, September 23, 2006, at the Hudson River.
Providence, Anniversary of literary magazine Conjunctions, October 5-7, 2006 at Brown University.
Boston, Tribute to Carolee Schneemann, November 4, 2007, at Studio Soto.
Berlin, Germany, Motion 4, Tachometer, Performance Tage, February 16, 2008, Kunstverein Nord.


Artwork:
Silver halide prints of 5 different video stills are available in an edition of 3
in 12 x 18 inches (30 x 45 cm) and 20 x 30 inches (50 x 70 cm).

A series of silver halide prints of 6 details is available as a set, in an edition of 3
12 x 18 inches (30 x 45 cm) and 20 x 30 inches (50 x 70 cm).

A further series of 3 small scale close-ups in black and white is available in c-prints (each 2 x 4 inches)
mounted in silver boxes (4 x 6 x 1 inches) in an edition of 5
and the same 3 images as one single c-prints in an edition of 5, unboxed.
18 x 12 inches (30 x 45 cm)

A limited video edition of 5 is available on DVD, 2.19min.